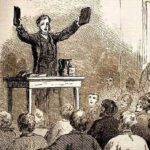 A Traditional Church Service.
"For I am not ashamed of the gospel of Christ: for it is the power of God unto salvation to every one that believeth; to the Jew first, and also to the Greek."
– Romans 1:16 –
At River Westlake Baptist Church, we offer a traditional church service very much like you would have experienced at the beginning of the 1900s. The surroundings are authentic to that time period, but more importantly, we open the Bible and exhort directly out of it, which used to be the norm in churches.
Unfortunately, there is confusion these days about preaching. Opening the Bible and exhorting directly out of it is now considered "hard preaching." Exhorting out of the Bible is not "hard preaching," it is "Biblical preaching."
We are not ashamed of the Gospel of Jesus Christ. On the contrary, we want to share the full counsel of God with as many people as we can. Please join us soon, it's very important.
Romans 1:16 – "For I am not ashamed of the gospel of Christ: for it is the power of God unto salvation to every one that believeth; to the Jew first, and also to the Greek."