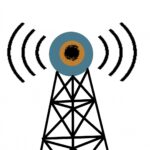 Spreading The Word
"Believe on the Lord Jesus Christ and thou shalt be saved"
– Acts 16:31 –
River Westlake Baptist Church is currently running some very short radio commercials on WTAM 1100AM for the next two months. The reason we are doing this is to spread the word of God and achieve what WTAM tells us will be about 1.3 million "gross impressions." Praise God.
1 Corinthians 1:18 – "For the preaching of the cross is to them that perish foolishness; but unto us which are saved it is the power of God."
Please don't be one of the ones that thinks the word of God is foolishness, as you are on your way to an eternity without Jesus in Hell. Be reconciled to God, saved from your sins by belief in who Jesus is and what He has done for you, and be on your way to Heaven.
Heaven is so holy that sin can not enter in there. Your sins must be wiped clean and forgiven, which is done though your true, life changing belief in Jesus. Not just a knowledge that Jesus existed, but a belief in who He is and what He has done for you. Do you have that belief?
Salvation is that simple. As our radio spot says, "Believe on the Lord Jesus Christ and thou shalt be saved…" – Acts 16:31.
If you have any questions about any of this, please don't hesitate to call. Your eternity hangs in the balance. May God bless you.